Holiday Villas right on the border of the Dordogne and the Lot-et-Garonne
Our villas are located close to the beautiful setting of the village of Saint Etienne de Villereal. Surrounded by sunflower fields, vineyards, forests and small hills, castles and fortified towns. You will feel like you are in the middle ages. In the direct surroundings of the villas, there are a lot of cultural sites to visit and plenty of activities.
Visit the bastides, enjoy the small shops and try the local wines.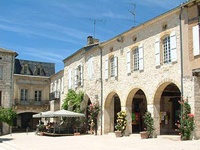 Maisons les Ormes is surrounded by different Bastides, or fortified towns from the middle ages. These are for this region typical small towns with arcades and restaurants centred around a large square. Lots of these villages/towns do have weekly markets where you can taste the specialties of the Perigord region; the wines of Bergerac and Monbazilliac, first class foiegras and lots of other products. And during the summer there are lots of different festivals. When driving from town to town you will see vineyards where you will find the red wines of the Bergerac, Duras and Cahors.
Discover the castles
There are several middle aged castles in the region. Visit Chateau Biron, Chateau Bonaguil or the castle of Josephine Baker, Les Milandes, with their exciting bird- of-prey show. A real recommendation is the wine tasting in the castle of Montbazilliac.
Cycling, hiking, canoeing, swimming and play golf
Hiking and cycling: walk or cycle one of the many tours in the sloping and varied landscape. There are also many tours for Mountain bikers, from relaxed to professional. You did not bring your bike ? No problem, there is a bike rental in Villereal.
Canoeing: suited for all ages there are several canoe trips on the Dordogne, Vezere or the .These trips will guide you past castles and beautiful sceneries.
Swimming: there is plenty of swimming in natural waters like the Dordogne, Vezere or Lot. A small lake called "plan d'eau" at Logratte is only a 20 minutes drive away. There is a water slide, and small café and changing rooms with WC.
Golf: There are various 9 and 18 holes courses in the area, amongst others:
Theme parks: There is a Walibi water park in Agen, a climbing adventure park in the woods of Parc-en-Ciel and various other theme parks in the area.
Enjoy the good life in Bassiviere
Have an out-side/Al Fresco dinner at our 'neighbours'! In the middle of the French sloping hills of the Lot-et-Garonne, and less than a kilometre away is 'Bassiviere'.
Here you will eat at long tables in the garden or terrace. (There is a very nice playground for the children). Bassiviere will serve you natural, pure and ample meals.